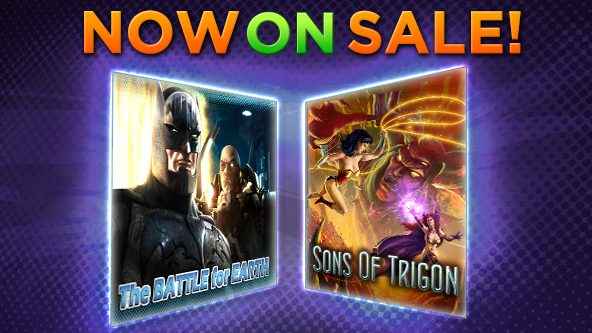 DLC Packs Now On Sale!
Save 30% on The Battle For Earth and Sons of Trigon this week. In The Battle For Earth, experience some of DC Universe Online's best raids and unleash Earth powers, as you work your way toward the heart of our epic launch storyline. In Sons of Trigon, follow evil into the obliterated Gotham Wastelands and master Celestial powers, and its unique playstyle.
PlayStation Plus members also receive an additional discount on these two DLC Packs!
You can purchase DLC Packs in-game in the Marketplace, here on the website (PC), or in the PlayStation Store. Log in now and save!
Sale begins July 1, 2014, and ends July 7, 2014 on US PC, US PS, and EU PC. Sale begins July 2, 2014, and ends July 8, 2014, on EU PS. On PlayStation, the sale will begin and end when the PSN store updates.