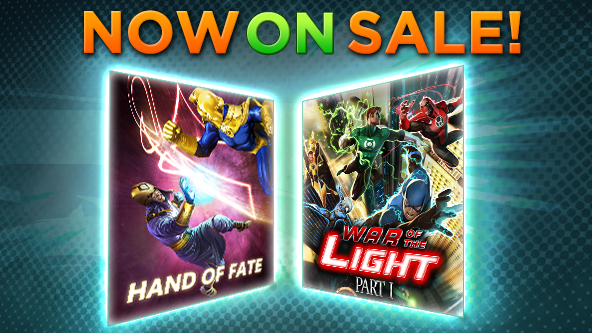 DLC Packs Now On Sale!
Save 30% on War of the Light Part I and Hand of Fate, starting today! In War of the Light Part I, master Rage powers and join the Lantern Corps in battle on planet and off! In Hand of Fate, enjoy the first Operations in DCUO and gain access to one of the most convenient features in the game: the Utility Belt!
PlayStation Plus members also receive an additional discount on these two DLC Packs!
You can purchase DLC Packs in-game in the Marketplace, here on the website (PC), or in the PlayStation Store. Log in now and save!
Sale begins July 8, 2014, and ends July 14, 2014 on US PC, US PS, and EU PC. Sale begins July 9, 2014, and ends July 15, 2014, on EU PS. On PlayStation, the sale will begin and end when the PSN store updates.