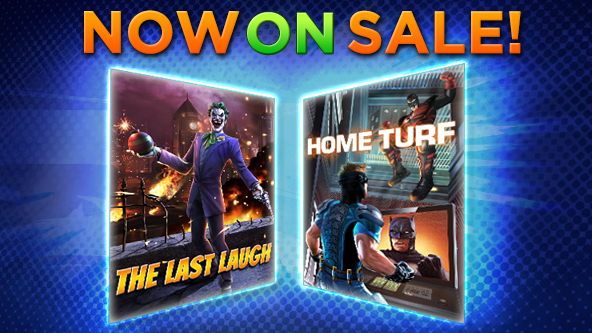 DLC Packs Now On Sale!
Save 30% on Home Turf and The Last Laugh this week. In Home Turf, expand your arsenal of power with your very own Lair and all the combat benefits that come with it, from Orbital Strikes to Supply Drops. In The Last Laugh, master the Shield weapon and a host of iconic Legends characters.
PlayStation Plus members also receive an additional discount on these two DLC Packs!
You can purchase DLC Packs in-game in the Marketplace, here on the website (PC), or in the PlayStation Store. Log in now and save!
Sale begins June 24, 2014, and ends June 30, 2014 on US PC, US PS, and EU PC. Sale begins June 25, 2014, and ends July 1, 2014, on EU PS. On PlayStation, the sale will begin and end when the PSN store updates.