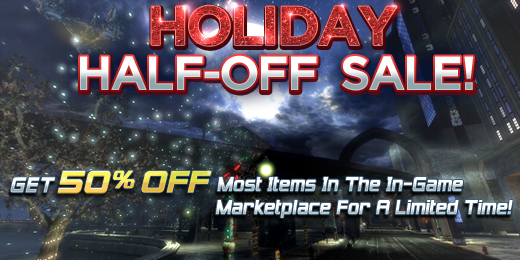 Happy holidays!
The season of cheer is here, and so is the Holiday Half-Off Sale in DC Universe Online. Heroes and Villains of all stripes, rejoice this season with HUGE savings in the marketplace.
As it turns out, it doesn't really matter if you're naughty or nice, or if you're Free, Premium, or Legendary, or if you're playing on PlayStation 4, PlayStation 3, or even PC. All you have to do is log in between now and December 23rd**, and you can get 50% off most items*.
What are you waiting for? Everyone deserves a little holiday cheer, and what says ho-ho-ho like a shiny new Power Respec token or Replay Badges, so you're all set for 2014's War of the Light Part I DLC Pack and the new Rage powers?
Log in and save today!
*Excludes DLC Packs, Memberships, Marketplace Cash, Station Cash, Ultimate Edition, and Origin Pack
**Sale runs December 20 to December 23, 2013