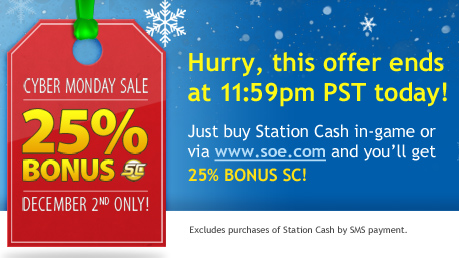 Cyber Monday is here! Great online deals happen on Cyber Monday, which is why SOE is offering two great deals in DC Universe Online!
PC Players:
Purchase Station Cash in-game, via the website, or redeem a game card for Station Cash this Monday, and you'll receive a 25% BONUS!
PS Players:
Check the PlayStation Marketplaces for a Cyber Monday sale! Get 25% off most items!
Hurry! This offer ends at 1‌1:59pm PST on December 2, 2013!
* Excludes purchases of Station Cash by SMS payment.