Starro – also known as Starro the Conqueror – is an intelligent alien lifeform who seems to resemble a large starfish. His first appearance in DC Comics was in 1960, alongside the first appearance of the Justice League of America, and now he's coming to DCUO.
To learn more about this character AND the comic book inspiration the development team took from classic comics in creating the upcoming event, watch this video.
Like Jack mentioned, those looking to to delve even deeper into the comics that inspired the upcoming Starro the Conqueror event should check out these two: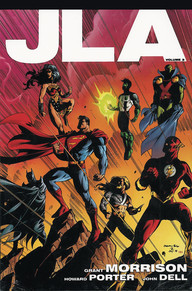 In JLA Vol. 3, Starro the Conqueror – the JLA's first foe – returns in a new form: Star Conqueror! The JLA receives help from an unexpected ally – THE SANDMAN's Daniel, the Lord of Dreams. JLA Vol. 3 is written by comics legend Grant Morrison, known for All Star Superman and Final Crisis. Buy JLA Vol. 3 from DC COMICS here.
In Justice League of America Vol. 1: The Tornado's Path, Superman, Batman, and Wonder Woman are reforming the Justice League with a new roster of members. During the process, a new villain appears – the first of many foes out to destroy the league. Written by Brad Meltzer (Identity Crisis, The Book of Fate), you can buy Justice League of America Vol. 1: The Tornado's Path from DC COMICS here.
For more information about the upcoming event featuring Starro the Conqueror, click here for the full Development Update. The event is expected to begin this April.